Meet the President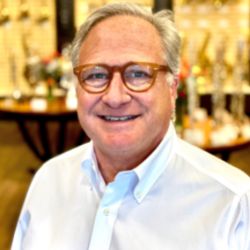 Lewis Shender President
Lew has been the President and an owner of PM Music Center since January 2022. Lew began his career as a corporate lawyer at a large law firm. Since then, he has worked in senior-level management positions in multi-unit retail service companies for over 20 years. Lew received a BA in History (magna cum laude) from Duke University and a JD from New York University School of Law. Lew is a beginner cornet player.
Meet the Founders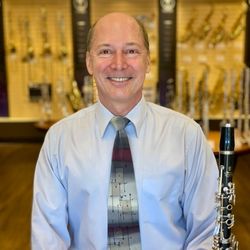 Frank Pampenella Founder
Frank is the founder of PM Music Center and has worked in the music industry for over 40 years. He founded PM Music in 1982 when he transitioned his successful lesson studio into a full-service music center specializing in band and orchestra instruments. Under Frank's leadership, PM has grown from a basement location to one of the largest band and orchestra dealers in the highly competitive Chicago region and has been recognized as a Top 100 Dealer by NAMM (National Association of Music Merchants) for unique contributions to the global music industry. Frank has been featured on the cover of Music Inc. magazine, has appeared as a guest speaker at music industry conventions, and continues to be recognized for his vision, creative business solutions, and consistency in an often-turbulent financial climate.

Frank is a talented drummer and has a great passion for music. He taught private lessons and performed professionally for many years before immersing himself in the world of music business. During his career, Frank has worked in every department of PM including office, retail, repair, and warehouse. He was PM's sole Education Representative for many years until store growth forced him to hire additional staff, and he also has an extensive instrument repair background.
Julie Pampenella Founder
Julie is co-founder of PM Music Center and started the company with her husband Frank in 1982. Her previous experience in the insurance and tax industries has proved useful at PM. Though she studied piano as a child, Julie considers herself more of a music appreciator. She and Frank have three grown daughters and are proud to be grandparents of 6 little ones.
Finance & Administration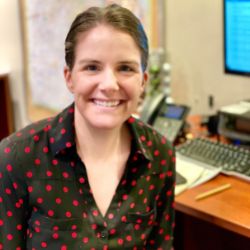 Sarah Cullen

Director of Finance & Administration
Sarah Cullen graduated from Illinois State University where she earned a Bachelor of Science in Accounting and a Master of Professional Accountancy. Shortly after graduation Sarah passed the Certified Public Accountant exam. Sarah spent over ten years working as a auditor for a public accounting firm, serving the Chicagoland area. Sarah has experience servicing clients in a wide variety of industries including retail, rental, construction, hospitality, not-for-profit and employee benefit plans. Sarah lives in Naperville, IL with her husband and two children.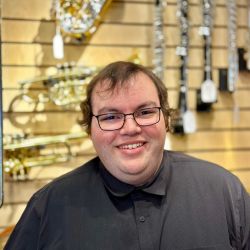 Ricky Janito

Accounting Clerk
Ricky joined PM Music Center in June of 2023. After graduating from Oswego High School, he studied Accounting at Waubonsee Community College. Ricky has played Trumpet since 6th grade and continues to play on occasion with local groups and pit orchestras. In his spare time he enjoys playing video games and board games with friends, and is learning to play the Kalimba and the Piano. Ricky oversees the Accounts Payable and Payroll functions here at PM Music.
Educational Representatives
Harley Figueroa Lead Educational Representative
Harley studied Music Performance at Northeastern University. He currently maintains a private recording studio and has a background in recording and editing. He plays all saxophones and flute and retains an active performing schedule in Chicago and across the United States. Harley joined PM's staff in 2013 and has become a valuable resource because of his extensive knowledge of woodwinds and his fluency in Spanish. In 2015 Harley added Educational Representative to his title and began servicing school accounts in addition to his work in sales.

Check out Harley's Employee Spotlight Video here!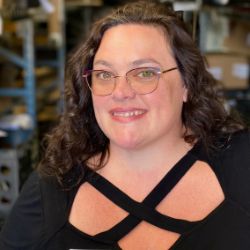 Laurie Mills-Mackowiak Educational Representative
Laurie Mills-Mackowiak was very active throughout her middle school, high school, and college years as a singer in concert choirs, show choirs, and madrigals. She was a member of the Music Honors Society and had the privilege to perform at the Eastman School of Music, Niagara Falls, and the Toronto Space Needle. Laurie had 15 years experience in customer service before joining the PM team in 2013 to help with school signup nights and bulk deliveries. In 2015 she joined the PM Communication Center before switching to the Rental Services Department a year later. While there she began training with and assisting former PM Educational Representative Jeffrey Urban, and in 2021 she became an Educational Representative herself.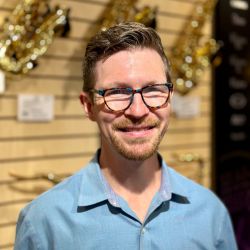 Ted Holtz Educational Representative
Ted received a bachelor's degree in Music Education at Roosevelt University's Chicago College for the Performing Arts and taught band, chorus, and general music at the middle school level for 9 years before joining the PM Music Center team in 2023. He has also taught private lessons and performed as a freelance saxophonist in the Chicagoland area for over 20 years and travelled extensively as a musician for Royal Caribbean Cruise Lines.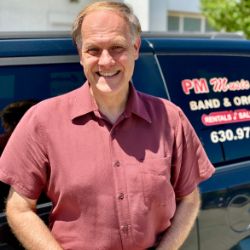 Chuck Sloka Educational Representative
Chuck Sloka is an active trombonist, educator, arranger, composer, producer in the Chicagoland area. He has performed across the country and in Canada, Japan, and Europe has backed many fine musicians in many styles. He received a Bachelor's degree in Jazz Studies from DePaul University and studied further at Northern Illinois University. He is excited to join the team at PM Music Center.
Communication Center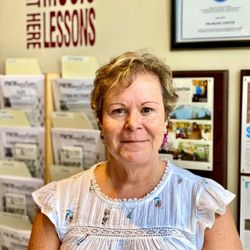 Robyn Rogers Director of Office Operations
Robyn started at PM Music Center in 2006 with prior experience as a Director of Religious Education, along with managerial and Project Coordinator experience. She played organ throughout her school years and continues to play for her own enjoyment. Robyn has experience as a music parent and renter for both her children and was involved with Band parent Associations from middle school through college. She was a loyal customer of PM Music Center long before joining the staff.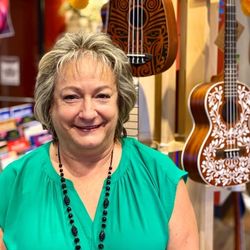 Karen Fazio Educational Representative Coordinator
Karen has worked at PM Music Center since 2009. Though she originally started in the warehouse, she now works in the Communication Center. Karen enjoys talking with customers and directors about musical instruments, sheet music, accessories, and our rental instrument program. Karen has played piano for over 40 years for church services, youth activities, and solo contests. She also has directed an adult and youth hand bell choir as well as a youth choir. Music was a large part of her younger years, and she has continued to encourage music in her children and grandchildren.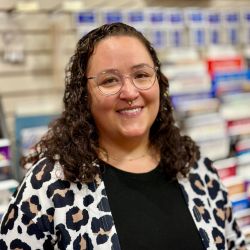 Nikki Leonard Communication Center
Before starting with PM Music in 2022, Nikki was a stay-at-home mom. She grew up in Indiana and lived in California and Utah before moving to Illinois. She loves listening to a wide variety of music and played the flute in middle school. Nikki currently lives in Oswego, IL with her husband and son.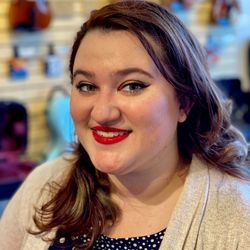 Elizabeth Mayton Communication Center
Elizabeth joined the PM staff in 2012 after being a longtime customer. She is a lifelong singer and plays the oboe, autoharp, ukulele, and various percussion instruments. Currently, she is a resident cantor and a member of the choir and orchestra at her church. In 2016 she earned her degree in General Education with a focus on Music Education and Religious Studies. Outside of PM, she volunteers her time with the Girl Scouts, serves as Arts Director for a camp she helped found, teaches high school religious education, and volunteers at a local nonprofit music venue.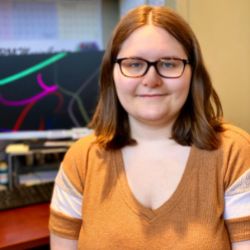 Olivia Quinn Communication Center
Olivia has had a strong interest in music from childhood growing up listening to her parents' cassette tapes. She has played the flute since 2007, participating in many concerts and contests as well as playing in her high school's orchestra pit. She holds a Bachelor's in Software Engineering, graduating with honors in 2019 from Loyola University Chicago. When not helping out customers at PM Music, she spends her free time pursuing art and writing. Olivia joined PM in 2020.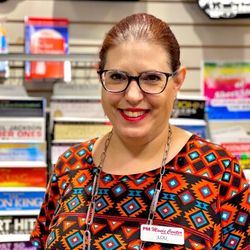 Louise Vargo Communication Center
Louise began playing piano when she was 7 years old and started teaching piano privately in 1997 in the Naperville/Plainfield/Aurora/Oswego area. She also has taught at PM Music Center for over 20 years. Louise has performed with community bands, as a church pianist, and as an accompanist. She worked at Brookdale Music for 3 years as their Print Music Manager and joined the PM office staff in 2011. Louise has a B.A. in Jazz Performance from Benedictine University.
Retail Services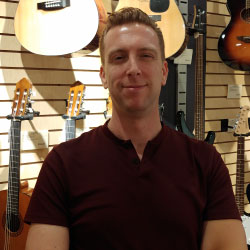 Mike Patterson Retail Manager/IT/Website
Mike has been in the music retail industry for over 25 years. Fresh out of high school, Mike began to dabble in electronic music, which led him to Brookdale Music and Education Center in Naperville, where Mike became the Pro Audio Manager and eventually the Store Manager. During his 15-year tenure at Brookdale Music, he helped create and set up school MIDI labs, designed extensive sound systems in churches and schools, and worked in and on recording studios. Mike joined PM Music Center in 2014.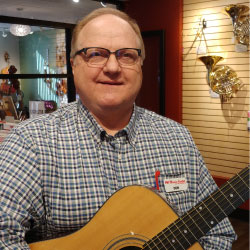 Don Sukut

Retail Services
Don has been working in music retail for 15 years but has been around music his whole life. Coming from a musical family, Don sang his first song on stage at the age of 4, and started playing piano, violin, and guitar shortly after. His interest in live sound/lights and recording has been a source of great gratification and fulfillment for him on a personal level. He loves all instruments but gets most excited when talking about guitars and amps, especially vintage. Don joined PM Music Center in 2018.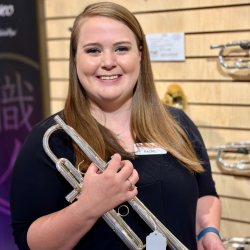 Rachel Bartleman

Retail Services
Rachel is a native of Des Moines, Iowa. She holds a bachelor's degree in Music from Luther College and a master's degree in Trumpet Performance from Southern Illinois University Carbondale. Rachel has performed in various ensembles and taught private lessons throughout her educational career. During her time at SIU, Rachel served as a graduate assistant for the athletic bands program where she worked with the Marching Salukis and SIU Pep Band. Rachel joined PM Music Center in 2023.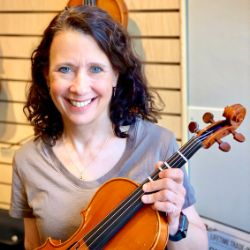 Becky Cormier

Retail Services
Becky studied Violin Performance at the University of Rhode Island, and performs with numerous ensembles in the Chicago area, including Kishwaukee Symphony Orchestra, New Philharmonic, and Fox Valley Orchestra, where she also serves as Music Librarian. She also brings to PM Music an extensive background in retail and customer service. But her favorite area of experience is her years as a band, orchestra and choir mom for her own four kids!
Repair Shop - Woodwinds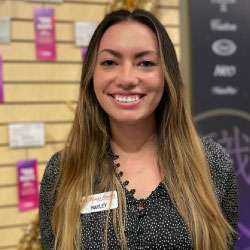 Hayley Paladines

Woodwind Technician & Coordinator
Hayley studied Music Education at Millikin University where she participated in jazz ensembles, jazz combos, saxophone quartets, orchestra, and wind ensemble. During her time at Millikin, she learned to play and teach multiple instruments, specializing in saxophone, clarinet, and flute. She has taught private lessons and has mentored students in marching band and beginning band in the Oswego area. What brings her the most joy is engaging and working with students of all ages. Hayley joined PM Music Center in 2021.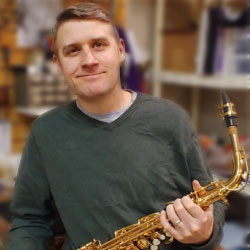 Casey Fitzpatrick

Woodwind Technician
Casey is a professional saxophonist and repair technician based in Chicago. After graduating from Millikin University, he toured the United States and abroad extensively and has been featured on numerous recordings. Casey joined PM as a woodwind and brass repair technician in 2009 and is a member of NAPBIRT (National Association of Professional Band Instrument Repair Technicians).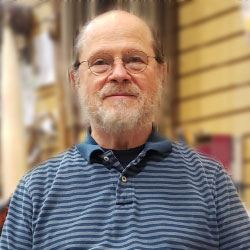 Les Olds

Woodwind Technician
Les began playing clarinet at the age of ten and later added flute and saxophone. He graduated from the University of Nevada Reno with a BA in Music and played with the Reno Philharmonic and other ensembles. In 1990 he enrolled in Red Wing Technical College for band instrument repair and has enjoyed repairing woodwinds for the last thirty years. He also has a wealth of experience playing in pit orchestras throughout the Chicago area. Les joined PM in 2019.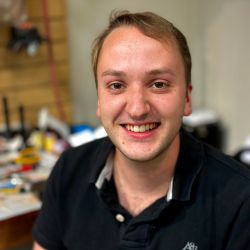 Cole Demro

Woodwind Technician
From Nashua, Iowa, Cole studied Jazz and Music Education at the University of Iowa where he played in various jazz ensembles, combos, and student bands. After working part time in a repair shop Cole then studied Band Instrument Repair at Minnesota State College Southeast in Red Wing, Minnesota.
Repair Shop - Brass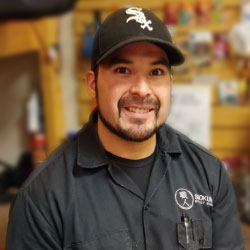 Andy Rodriguez

Brass Technician
Andy graduated Oswego High School and Western Illinois University. Andy worked at PM for several years as a sales associate before deciding he would like to learn how to repair instruments, leading to an apprenticeship with PM's former Lead Brass Technician, Matt Valenzeno. Andy joined PM in 2007, is a member of NAPBIRT, and is fluent in Spanish.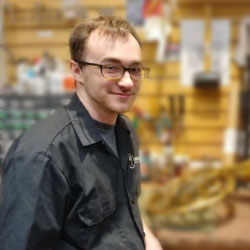 Harris Jordan

Brass Technician
Originally from Plainfield, Harris is an emerging Chicagoland horn player. He graduated from North Central College with a degree in Music Performance and is now completing a graduate program in Horn Performance at Northern Illinois University. Harris performs regularly with the Dupage Symphony Orchestra, the Southwest Symphony Orchestra, the Naperville Chorus, Naperville Municipal Band, and is a founding member of the Molten Brass quintet. Harris joined PM as a brass apprentice in 2018.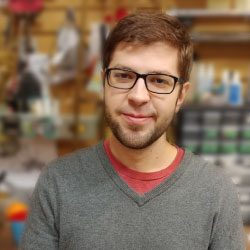 Dave Murray

Brass Technician
David is an aspiring brass musician and performer from Batavia, IL. He holds a Bachelor's Degree in Trumpet Performance from Northern Illinois University and is a member of the Dekalb Municipal Band and Kishwaukee Symphony Orchestra. David joined PM in 2016 and is a member of NAPBIRT.
Repair Shop - Strings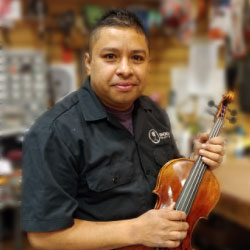 Marino DelValle

Luthier
Marino is originally from Vera Cruz, Mexico and immigrated to the United States 30 years ago. Marino worked as a luthier building Christopher basses for Concord International. He later entered a string apprenticeship with luthier Cassandra Thuneman and has become a very skilled luthier, technician and teacher in his own right. Marino specializes in orchestral instruments and is also well-versed in fretted (guitar, ukulele, and mariachi) instruments. Marino joined PM in 2013 and is fluent in Spanish.
Procurement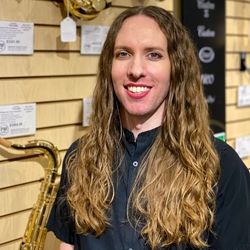 Jax Downs-Martinez

Director of Procurement
Following 12 years of studying classical piano, classical voice, and music theory, Jax earned a B.A. in Music Education and Vocal Performance and worked with kindergarten through high school students in Jamaica, New Mexico, Colorado, Michigan, and Chicago. After leaving the classroom, Jax worked in music publishing, fashion retail, and the restaurant industry before joining the PM staff in 2010. Jax has extensive experience in the church music, classical, and musical theater worlds as a vocalist, pianist, and music director and is also a self-taught ukulele player.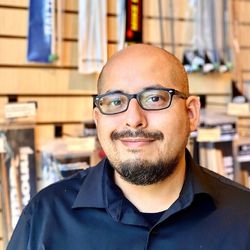 Elias Martinez

Procurement Associate
Elias joined the PM team in 2018 after spending 17 years at Sam's Club in Naperville. He also teaches private percussion lessons at PM. In his free time, he enjoys performing with the Fox Valley Concert Band and other local groups as a percussionist. He also loves learning new instruments, or new techniques and styles on familiar ones.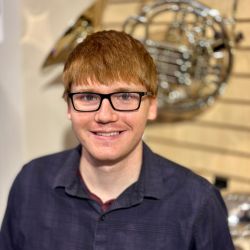 Adam Laird

Procurement Associate/Retail Services
Adam earned a degree in Music Education from the University of Illinois, where he played mellophone for 3 years in the Marching Illini and participated in a variety of other bands, orchestras, horn choirs, and chamber ensembles. His main instrument is French horn, but he dabbles in trumpet for playing jazz and teaching private lessons. Since graduating, he has worked in many areas of the music industry, ranging from the classroom to doing artist relations for a major band instrument manufacturer. He often says that any day he gets to talk about French horns is a good day, and we cannot get him to stop talking about his corgi. Adam joined PM Music Center in 2023.
Marketing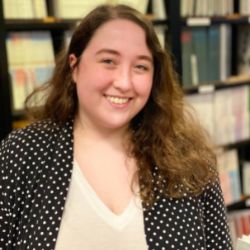 Sarah Knauf

Marketing Specialist
Sarah studied Cinema at Southern Illinois University Carbondale, with a focus on writing for the screen and stage. Her film works have screened throughout North America, and she has marketed for numerous clients in the Chicagoland area. Sarah is an Aurora native and an active member of the local community theatre scene. Sarah joined PM Music Center in 2022.
Rental Services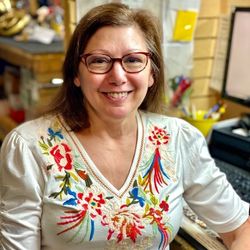 Lisa Roedger

Rental Services Manager
Lisa has been with PM Music Center since 2001. As Rental Services Manager, she oversees the preparation, cleaning, organization, and delivery of the thousands of instruments that are rented every year. During her time at PM, Lisa has also worked as an educational representative, making weekly visits to schools, and assisting teachers with their music recruitment and rental nights. Lisa's love of music began in childhood, and she played the flute through high school.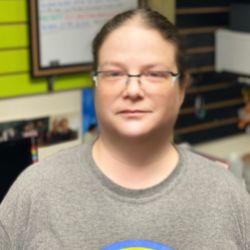 Misty Fox

Rental Services
Misty first started working for PM doing school sign-ups in 2013. In 2016 she joined the Rental Services Department full time. Misty played the viola in elementary and middle school and has worked in customer service positions for over 20 years.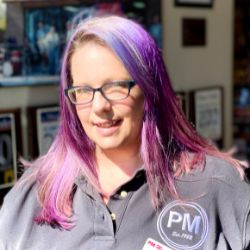 Alison Scherf

Rental Services
Alison joined PM Music Center in 2013. She studied flute and bassoon through high school, and sang with the Waubonsie High School choir. Prior to her time at PM, Alison earned a B.A. in Accounting and accrued 15 years of professional experience in customer service and management positions. Her work history includes managing the accounting department for a natural pet food distributor, managing bowling centers for Brunswick, and running a state-wide junior bowler scholarship program in California.